DRIVING SCHOOL ESSENDON FIELDS
Driving is an important task and you should learn it from the ones who have expertise in that it. Essendon Fields is full of driving schools which only fool you by charging high fees and giving you nothing.
Our driving school is the leading one in Essendon Fields and nearby areas. The drivers of our Essendon Fields driving school have valid license to give driving lessons. We select the most reliable and trustworthy driving instructors for the safety of students. They know all the routes of Essendon Fields and surrounding areas.
Benefits Of Driving Lessons In Essendon Fields
We take classes on all 7 days of the week.
Our driving instructor Essendon Fields takes special classes if some students need extra training.
We provide affordable car learning packages to customers with more benefits.
We conduct regular road tests and written exams for improving the performance of each student.
Our driving instructors give updated information about new vehicle laws, driving rules and regulations.
Attending our classes will help you gain a driving license quickly.
We accept payment through cash, credit card, debit card, and various other methods.
Our classes are open for teens as well as adults.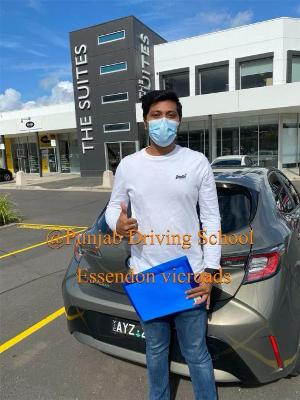 ENJOY DRIVING LESSONS FROM OUR GENUINE INSTRUCTORS IN ESSENDON FIELDS
We provide services in the inner parts of the city as well. So now, you will not find it difficult to find the driving school near your house when we are with you.
TO TAKE DRIVING LESSONS ESSENDON FROM OUR DRIVING INSTRUCTORS, CALL US OR SEND US A MESSAGE.
Perfection Matters For Driving Instructors At Punjab Driving School
Punjab Driving School instructors are the very best. With backgrounds that include police work, our instructors customize and personalize their teaching approach to each student. We know how teens, adults and seniors learn to drive, so we can help everyone learn to drive and improve driving skills. All our driving instructors have clean driving records, child abuse clearances, and have passed criminal background checks.
Bringing the best for you
All our instructors go through extensive background checks, complete state requirements, and are former police officers – ensuring that you, or your loved one, will be receiving the most up-to-date techniques, information and safe driving standards. Our students are taught the dangers of the road, the dangers in the car, how to avoid distractions, the latest driving laws, and the key components of safe driving.
Being a new driver can be scary. Let Punjab Driving School help you develop the confidence to get behind the wheel and be the next great driver on the road. Our driving lessons delivered at the centre are designed to meet professional level and learn the driving codes thoroughly so that it never becomes a problem in the future. We are fully insured and all instructors are fully licensed.
Unlock your full potential
We are not your average driving school, but continue to revolutionize the driver training industry through our proven driver training institute in Essendon Fields. Only specialised driving instructors from Punjab Driving School can provide you the peace of mind that comes from having received the best driver training in Essendon Fields.
We respect how busy you are, but we also know you want what's best for your family or employees without sacrificing the quality of your driver training services. Therefore, we offer you the convenience of engaging, disciplined courses integrated with the very best professional in-car training in your area.
Trained instructors at your service
Your local driving instructors from Punjab Driving School have gone through a rigorous training and certification program to achieve the designation required for providing driving training lessons in Essendon Fields. They are held to a very high standard, licensed by the State of Victoria. They are able to provide you the very best in-car training. Put their expertise and experience to work for you developing your driving skills and you will surely become one of the best drivers someday.
Get in touch with our experts and let us know a feasible time for training so that we can schedule the same for you!