Glenroy is the major city of Melbourne, Australia. It is situated to the northern side of Melbourne. It has a population of only 22,245 people. The city has good connectivity and transport facilities.
Since Glenroy is developing each day, reckless driving is seen to a large extent in the city. Many driving schools have started from the last few years to train the youngsters of the city in the car driving. But most of them give false promises to teach you professional driving.
Punjab Driving School in Glenroy is a reputable driving school in the city. We have been providing the driving lessons from the last 10 years in the main and inner parts of Glenroy as well.
Hire the Best Driving School Glenroy for Gaining Expertise in the Cars
Learning to drive a car is a very important skill in current times. You need to have a skilled driving staff to train you in the driving area. If you are finding the best driving school in Glenroy, you can choose Punjab Driving School. We are the experts in training every student in the driving field.
We have a smart and skilled group of driving instructors for every student. Our staff has been offering customized driving lessons for the last 10 years.
Variety of Car Models
These days, automatic cars are in trend. But a driver must also know to drive manual cars. Punjab Driving School in Glenroy trains the students in driving both automatic and manual cars. Apart from that, we also have the latest car models and the old classic models of cars. You can choose any car from our list that suits your training style and budget.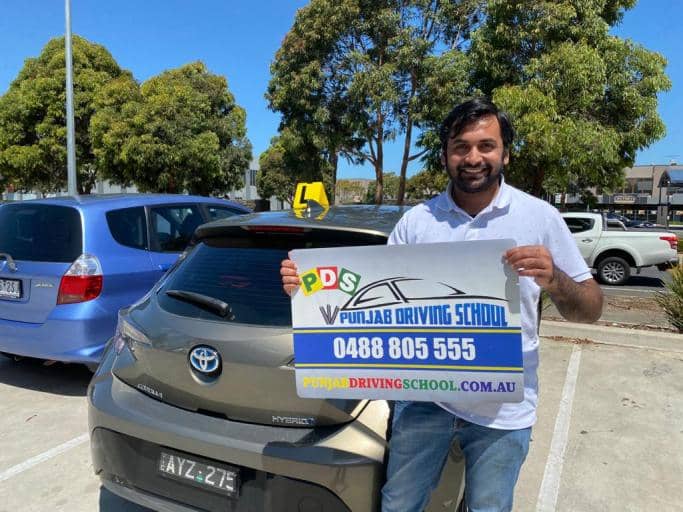 Professional Quality Driving Lessons in Glenroy
We do not train the students in mere driving. Our highly trained driving instructors train the students in making you the best and responsible drivers. Punjab Driving School teaches learners the road symbols, parking style and other driving rules and regulations. Besides, our driving instructors also teach how to control the speed of the cars on busy roads.
Licensed Drivers
Punjab Driving School staff has a license and all other necessary documents. Our drivers know all the test routes and roads of the city. They are well-versed with all the recent driving laws. Moreover, our drivers make driving an easier task for every student.
Other Reasons to Choose Punjab Driving School Glenroy
We listed some of the major reasons for attending driving school. In addition to that, there are some more reasons to choose Punjab Driving School as under:
We provide flexible timings for every student to attend the class.
Our driving staff offers the pick up and drop off facility for all the students.
You can get free keys 2 drive lessons for 1 hour by joining our driving school.
We will help you to convert your overseas license into a national license.
We conduct regular road tests to make your driving better each day.
Our driving staff trains you in driving every type of car.
Contact Us
If you want to join Punjab Driving School, you can contact us on 0488 805 555. You can also send us a text message on WhatsApp 0488 805 555. Apart from that, you can also send us an email.
Professional Driving Lessons from Punjab Driving School
At Punjab Driving School, we offer top-class and certified driving lessons for both adults and teens. Our students will be able to take the road test under expert supervision from the professional driving instructors.
On your first driving lesson one of our instructors will determine how many lessons you will need in order to be a safe driver and be able to take a road test at Glenroy.
Industry leaders in Glenroy
Punjab Driving School has been an industry leader in safety and professional driver training for over a decade, setting the standard for customized courseware and interactive training solutions. Whether you are looking for refresher training, pre-hire assessments or simulator procurement, we work closely with you to develop a program that suits your needs, incorporates your procedures, and addresses your risks.
Our state-of-the-art learning tools are being used at different locations and schools in Glenroy. Professional training units are deployed regularly to provide on-site training. Our training experts and top driving instructors are happy to share their driving knowledge to make you the best driver in Glenroy. We will work with you to create customized training and learning solutions.
Trained and qualified driving instructors at Glenroy
Our highly qualified and experienced trainers are experts in their specific disciplines and registered with the appropriate authorities. We believe by sharing knowledge and expertise, we can upskill and motivate our students to become one of the best drivers in the area. This will reassure that drivers are properly trained to the highest standards. We help individuals achieve the accreditations they need for driving safely and peacefully.
Complete training programs delivered from the experts
Punjab Driving School provides a comprehensive training program through the driving lessons that are designed for novice drivers in Glenroy. We are happy to be your trusted classroom for all driving training needs.
Being a new driver comes with great responsibility. You are not just responsible for yourself; the responsibility includes your vehicle, your passengers, and the other cars and drivers on the road. Only practical driving experiences behind the wheel will allow you to gain the knowledge and know-how to deal with everyday driving situations – giving you the foundation to become a safe driver for life.
The instructors at Punjab Driving School are committed to teaching our students how to be the safest drivers possible.